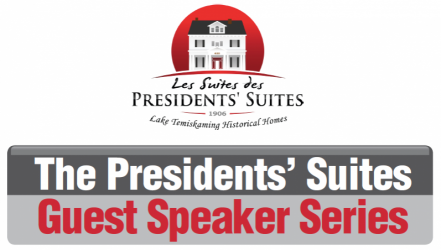 My Tiny Home A Minimalist Way of Life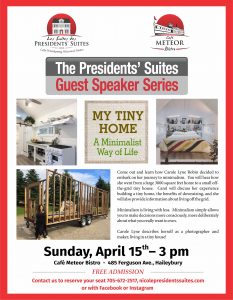 Our next Presidents' Suites Guest Speaker Series will be held at the Café Meteor Bistro in Haileybury on Sunday April 15th at 3pm.  Reserve your seat at 705.672.2517 or reach the Cafe Meteor Bistro via Facebook or Instagram. 
Come out and learn how Carole Lyne Robin decided to embark on her journey to minimalism. You will hear how she went from a large 3000 square feet home to a small off-the-grid tiny house. Carol will discuss her experience building a tiny home, the benefits of downsizing, and she will also provide information about living off the grid.
Minimalism is living with less. Minimalism simply allows you to make decisions more consciously, more deliberately about what you really want to own.
Carole Lyne describes herself as a photographer & maker, living in a tiny house!
About The President's Suites Guest Speaker Series
Welcome to our Presidents' Suites Guest Speaker Series web site section. We have always been inspired by the TED talks concept.
Inspired by the TED concept, we decided to share with our community the knowledge, passion and inspiration of some of our renowned and talented guests.  Short talks/demonstrations are organized a few times a year where our guest present on a specific topic. Admission is free for everyone wishing to attend.  In recent Guest Speaker Series presentations, we partnered with local organisations such as the Temiskaming Art Gallery, The Classic Theatre and ARTEM.
About TED
TED is a nonprofit devoted to spreading ideas, usually in the form of short, powerful talks (18 minutes or less). TED began in 1984 as a conference where Technology, Entertainment and Design converged, and today covers almost all topics — from science to business to global issues — in more than 100 languages. Meanwhile, independently run TEDx events help share ideas in communities around the world. (From the TED web site )

Our Past Guest Speaker Series