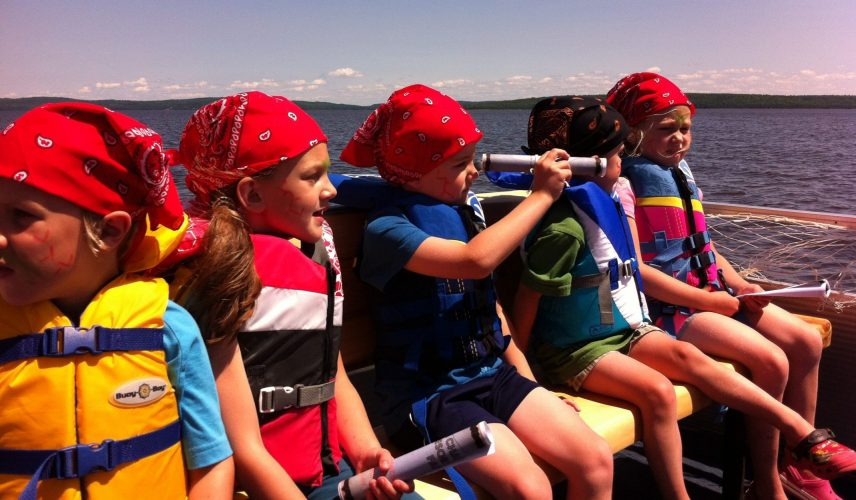 If you are planning a stay at the Presidents' Suites with your family and several children, our pirate treasure hunt to Farr Island is a must. A real pirate treasure hunt is every child's dream. Imagine a real pirate treasure hunt where you actually alone with your group on an island. A great way to spend an afternoon with your group and fun guaranteed for everyone.
How Does It Work
First you will decide if you want to paddle to the island with our kayaks/canoes or you prefer we take you to the island with our pontoon. Depending on the number and age of the participants, we will group a few of them together. The experience is always better when this is done in groups.
The next step is for everyone to dress up with our pirate costumes. Just dressing up is a fun activity on its own.
Then it will be time to leave for the island. We will provide you with the map of the island with your first clue. If we bring you with our pontoon, we will leave from the Haileybury marina and it is only a 5 minutes ride. If you decide to paddle, it will take you close to an hour.
As soon as you set foot on the island you real treasure hunt will start. You will follow the clues and this will lead you to the next one. The clues are educational and the participants will discover a lot of new things as they continue their journey around the island in finding the hidden treasure. The hunt should take approximately an hour. At the end, the treasure will be found and a small treasure will be given to all the participants.
Where Is Farr Island
Farr Island is our private, 5-acre island located on Lake Temiskaming. It is 3 km from the Presidents' Suites Villa. You can access the island with our kayaks/canoes or we can bring your group with our pontoon. The island is a great place to spend a few hours. We have a large deck, a 20×30 party tent, tables, chairs, BBQ and a lot more. There is also a small beach.
What Is the Cost For The Pirate Treasure Hunt
The cost to organized the pirate treasure hunt is usually a flat fee per person and will vary depending on the size of your group and the complexity/length of your hunt. Your cost could range between $10 to $15/person.   This cost covers our time for organizing the hunt plus the required items like the costumes and the treasures. Please contact Nicole to have a quote for your group. The cost will vary if we need to bring you to the island with our pontoon.
A Few Pictures Of Our Pirate Treasure Hunt
This is a fun event and it is a great way to spend an afternoon with your group of family. Believe us, it works every time! The pirate treasure hunt is an activity available to our Presidents' Suites guests.   It is part of having a memorable stay in our beautiful Temiskaming region.