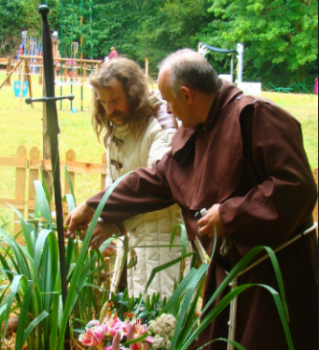 Discovery of Plant Pharmacy
Experiment the discovery of plant pharmacy.  Learn about the concept and the historical roots of the medieval Charlemagne Garden.  By entering the garden, you are immediately propelled into another world; the structure, the plants, the sculptures create a special atmosphere.
About the Discovery of Plant Pharmacy
You will experience connecting the five senses with plants as practiced by our most distant ancestors, the opportunity to reconnect with your genetic knowledge.  The experience continues by discovering the basics of companionship between plants and the concept of plant pharmacy.  You will be invited to French specialty pastries around an infusion of plants.  For more information, here is the AirBnB link to the experience with Frédéric and Véronique.  You can also follow the latest news on their Facebook page (les jardins de Charlemagne).  They can be contacted directly through their Facebook page.
Garden visit –  herbalism – food tasting
Frédéric and Véronique are the owners of 'les jardins de Charlemagne' and they have been presenting gardens in both France and Canada for 18 years.  They have been looking around in the research and the oral traditions about the culture and the use of ancient plants, the types of plants you would find outside the beaten track.  They offer you a chance to experience them in the framework of Charlemagne's gardens in Boreal earth.  They are located in Notre-Dame-du-Nord, in the province of Québec, only 15 minutes from Temiskaming Shores.
See more experiences available in our beautiful Temiskaming region.
___________________________________
What is a Temiskaming Experience
Live the Temiskaming experience, experience with locals what life is in beautiful lake Temiskaming region!  Discover our hidden gems, and immerse yourself in our culture, traditions and languages.  As more and more people grow tired of resorts and standard vacations, there is a shift towards wanting to see the "real" side of a destination. People are looking for truly local and authentic experiences.  Travellers are demanding authentic, experientially oriented opportunities with more meaningful interactions with locals.  Authenticity-seeking tourism is about unique accommodation, unique atmosphere, and interactions with hosts and with the local culture.
It is a one-of-a-kind activity designed and hosted by a local. Unlike a typical tour, an experience offers a deep-dive into the local culture and traditions of the host. Hosts offer their guests special knowledge, unique skills, and inside access to local places in the community.  You will create lasting connections and treasured memories.  Live the a Temiskaming experience!
Our beautiful Temiskaming region is about one lake, two provinces, and three cultures.  When visiting our region, you will be able to be close to nature, you will be able to slow down, you will be able to discover a new way of living.