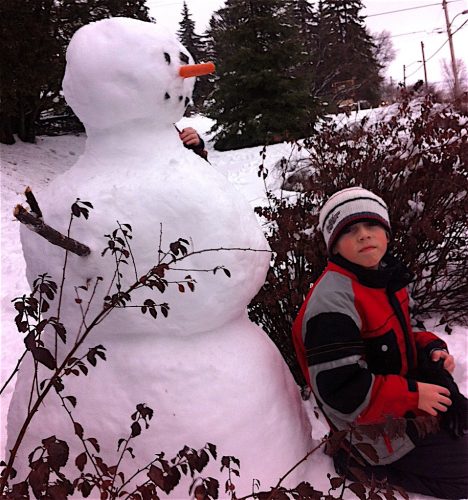 Winter in the Temiskaming region is simply beautiful. The area is renowned for the beauty of the landscape during the summer, but winter has just as much to offer with tons of winter activities possible.
Why not start with the activities that are just here in our own Presidents' Suites backyard.
Every year we build a slide just behind the Villa of the President's Suites. Guaranteed fun for the kids and also adults.   We have sleds for you.
A day on lake Temiskaming is also quite memorable. Why don't you take skating or even a hockey game on the ice surface prepared on the lake just in front of the President's Suites Villa. The rink is available most of the time for the first part of the winter depending on ice conditions and the amount of snow. We have some skates and hockey nets available.   You could also do a bit of ice fishing right across from the Villa.  Our small fish hut will be installed.  Is also possible to snowshoe to our private Farr Island. This expedition would take a few hours.  Fun winter activities right beside our historical homes.
Other Winter Activities
A combination of several other outdoor winter activities are possible. It is sometimes difficult to convince our families to spend time outdoors doing activities, but when you are in a context where these activities are attractive and well organized, people normally are ready for the challenge. Here are some of the possible activities: cross-country skiing, snowshoeing, downhill skiing and snowboarding, snowmobiling, ice fishing, festivals and carnivals and a lot more.  Indoor activities are also available for the days that you would want to keep warm.
Cross-Country Skiing & Snowshoeing
We are proposing that you spend a day at the Temiskaming Nordic Ski Club. This community ran club is exceptional by the design and quality of its trails but also by the community feeling that you will get when you enter the chalet. It is one of the best you will find in Northern Ontario.
Temiskaming Nordic ski club trailThe club offers 18 km of well-marked, groomed and track-set skate and classic skiing trails on beautiful rolling esker terrain, as well as a children's ski playground. There are three distinct sections of trails, which offer very different levels of difficulty, making the trails enjoyable to novice and advance skiers. You will get dozens of hills and descents on the blue and red trails. The Club facilities include a large heated log chalet with indoor washrooms, kitchen, waxing area, change rooms and a warm welcome. Rentals are also available.
Snowshoeing trails and rentals have recently been added.  A great activity when the days are a bit colder.
Downhill Ski, Snowboard & Tubing
You might also want to try the Tri-Town Ski & Snowboard Village . The Ski Village, which has been part of the community for over 40- years, continues to survive with all its volunteers and community support. A new chalet has just been constructed and work done on key areas of the site.  A tubing hill was also recently added.  The Ski Village is an attraction that will be enjoyed by every member of your family.
A Day on the Quebec Side
Why not spend a day on the Quebec side?  Winter carnival season is very prominent in Quebec and several communities and villages have their own version of a winter carnival.  Search the web and you will find what is happening during your stay in our region.  Always nice to visit Ville-Marie, enjoy a meal or a real family treat at Chocolats Martine.
It is possible to have fun winter activities for the entire family in our beautiful Temiskaming region
and then come back to the comfort of the Presidents' Suites.