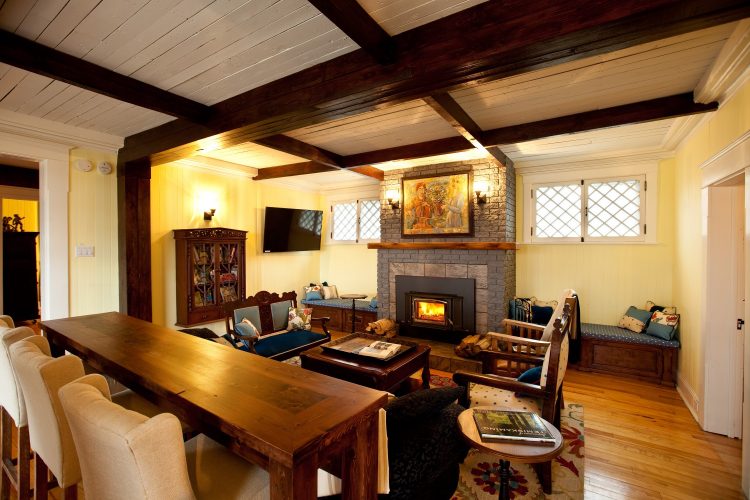 The Lumber Barons House is an historical 1907 mansion which clearly reflects the wealth of the Cobalt/Haileybury mining era.
As soon as you walk in the Lumber Barons House you are overwhelmed by the décor, which brings you back in time. Our designer for the house restoration project, Renelle Laliberté of Renelle Design, received the Canadian Historical Decor IDEA 2015 Award for her work at the Lumber Barons House. The colours used in the house and for all the fabrics were inspired by the original stained glass in the living room.
The Lumber Barons House is ideal for your receptions. It has been used on several occasions for cocktails, formal dinners, workshops, or simple gatherings with family & friends. Some guests even decide to use the house to meet their own clients.
More About the Lumber Barons House
The large front porch with the beautiful view of lake Temiskaming is certainly impressing and is an ideal location for your morning coffee or for a family or group lunch.  At the back of the house, a very private deck with large trees providing a buffer with the street, BBQ, and a year around spa is also available. The large 5-lot property has ample parking space, room for exterior games and a fire pit.
The main floor is designed in a 'C' shape, which was very unique for a house constructed in 1907. This uniqueness provides for a very smooth flow in the house so you can have a very large group spread out throughout the house without really realizing it. At the time, most houses were constructed as square shape two stories. As you open the door, a large cathedral ceiling entrance will immediately give you the feeling that you are walking-in a very unique house. The spacious kitchen has a nook area with a bay window overlooking the back deck and spa. The dining room is impressive and can seat up to 14 people. For larger groups, a different table arrangement can be setup. The living room is very 'lumber baron' with the wooden beams, the fireplace and the furniture. Bench seats have been added at several places in the living room in order to maximize the number of guests that could take place. The main floor also has three bedrooms and three bathrooms, one of them being an ensuite.
The 2nd floor has been redesigned completely.  We now have two bedrooms, a full bathroom, a half-bathroom and a kitchenette.
Lumber Barons House Floor Plan
If you want to visualise your stay at the Lumber Barons House we invite you to take a look at the floor plans by opening these PDF links:
A Few Pictures of the Lumber Baron's House