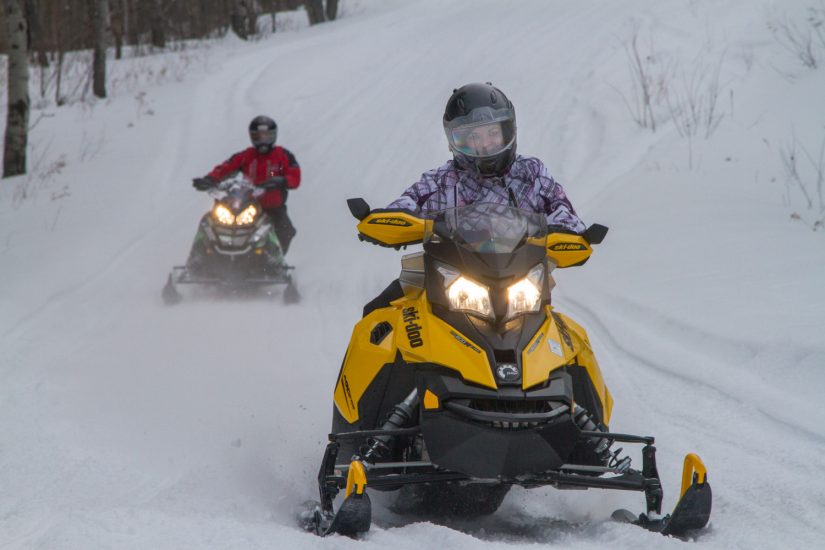 Snowmobile Motorcycle Holiday
The ideal snowmobile motorcycle holiday location is here at the Presidents' Suites if you are looking for a vacation in beautiful Temiskaming region. It is an ideal solution for couples that want to enjoy both the ride and an exceptional place to stay. 
Learn About A Perfect Snowmobile Motorcycle Holiday Location
A Snowmobile Vacation Ideal For Couples
Come discover the wonderful  World of snowmobiling in the beautiful Ontario North!  The President's Suites has something different to offer for snowmobilers.  It is an ideal solution for couples that want to enjoy both the ride and an exceptional place to stay.  We are very pleased that the President's Suites was part of the Top 10 Ontario Snowmobile Destination
Our historical homes have so much to offer from the beautiful sunrise on lake Temiskaming and a luxurious Suite when you come back later in the day where you can prepare your own meal with a bottle of wine and then relax in the exterior spa.
You do not have to pack up everyday; enjoy a loop during the day and then come back to your home.You can decide on the numerous loops that are available in the region.  We are centrally located between several available trails and you can either go south, north, west or east to the Quebec side.  The loops could range anywhere between 150km to 300km and would all have something really different to offer.  We can help you by proposing key stops along your loops on where to eat and what to see.
Temagami White Pine Snowmobile Tour
Go south towards Temagami with the White Pine tour which is approximately 180km in length.  Why not have a lunch in Temagami and stop for a coffee in Latchford.
 

The Quebec Side Snowmobile Tour
Spend a day visiting on the Quebec side.  This 250km loop will take you around a portion of lake Temiskaming.  You will discover communities, great people and a different culture. You will so around the top of the lake via New Liskeard.  This will take you to Notre-Dame-du-Nord.  Then you will head south though Saint-Bruno-de-Guigues to enjoy a great lunch in Ville-Marie.  Great options are available to you for lunch: Elle et Louis, Chez eugène, la Bannik.  On the way back you would cross on lake Temiskaming to come back to destination.
 The Elk Lake/Earlton Discovery Snowmobile Tour
The Tour will bring you  very different sceneries.  Farming land, forests, rivers but most important you will so by several communities: Elk Lake, Charlton, Englehart, Earlton, Thornloe.This tour would be approximately 180km in length.
 The Kirkland Lake Gold Rush Snowmobile Tour
You could spend a day heading towards Kirkland Lake and enjoy the Gold Ruch Tour which would be approximately 230km in length.  Once around Kirkland Lake, several different loops are available to better discover this region.
The snowmobile club in our region is the Tri-Town Sno Travellers which is part of the Timiskaming Abitibi Trail Association; district 14 of the OFSC.  The following link will bring you to maps of available trails. This is the link for trail conditions.  OFSC Trail Conditions
___________________________________
Contact Jocelyn directly at
jocelyn@presidentssuites.com or cel/text at 705-650-2099
to discuss your snowmobile motorcycle holiday.  
We can tailor your stay to meet your needs.