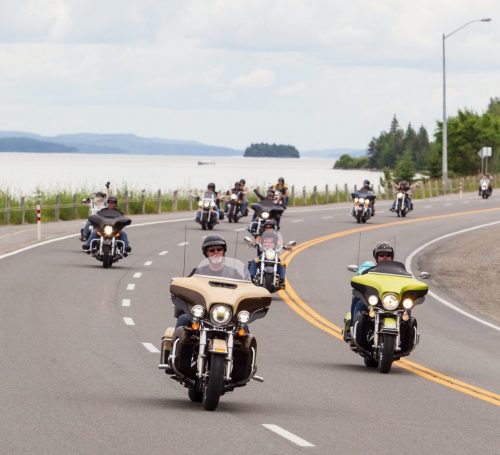 Snowmobile Motorcycle Holiday
The ideal snowmobile motorcycle holiday location is here at the Presidents' Suites if you are looking for a vacation in beautiful Temiskaming region. It is an ideal solution for couples that want to enjoy both the ride and an exceptional place to stay. Nicole will help you tailor your stay for the perfect snowmobile motorcycle getaway to meet your needs.
Learn About A Perfect Snowmobile Motorcycle Holiday Location
A Motorcycle Vacation for Couples and Groups
The President's Suites has something different to offer for motorcyclists.  It is an ideal solution for couples that want to enjoy both the ride and a great place to stay.
One main destination for lodging, a high end historic home where you can enjoy the beautiful sunrise on lake Temiskaming in the morning and when you come back later in the day, you can prepare your own meal with a bottle of wine and then relax on the dock or in the exterior spa.  You do not have to pack up everyday; enjoy a nice loop during the day and come back to your Suite.
During the day, you can decide on the numerous loops that are possible in the region.  They can range between 145km to 400km and all have something really different to offer.  We can help you by proposing key stops along your loops on where to eat and what to see.  A few loops are detailed below.
Temiskaming Shores was also home to the famous Biker's Reunion which attracted for several years over 6000 bikers and 25,000 people every year.   Take a look at this unique video  Biker's Reunion Video.   Please also take a look at this video: Bikers Reunion Report – The Good Thing That Just Keeps Getting Better featuring Nicole and the Presidents' Suites.
The Lake Temiskaming Loop Tour
The Silver Rush And The Country Motorcycle Tours
Just open up the TIC interactive tour app on your smartphone and you will be guided through a more local 145km loop which will take you to Cobalt, New Liskeard, Earlton and Belle Vallée.  We can provide you with the details of the TIC app which can be downloaded free from the Apple apps store.
The Gold Rush Motorcycle Tour
The Gold Rush Tour, 285 km long, will take you to Elk Lake, Matachewan and Kirkland Lake.
The Quebec Side Temiskaming Motorcycle Tour
Discover the Quebec side with a great meal at one of the great restaurants such as Elle et Louis, Broue Pub, Chez eugène, la Bannik or Temikami's Coucoushee restaurant.  This loop, 195km long, is very scenic with its rolling roads.
The Quebec Rouyn-Noranda Region Motorcycle Tour

Why not discover Rouyn-Noranda, the largest city of the Abitibi-Temicamingue region on the Quebec side and come back by Larder Lake on the Ontario side.  This loop is 275km long.
_______________________________________
Contact Nicole directly at
nicole@presidentssuites.com or cel/text at 705-622-0279
to discuss your snowmobile motorcycle holiday.  
She will tailor your stay to meet your needs.