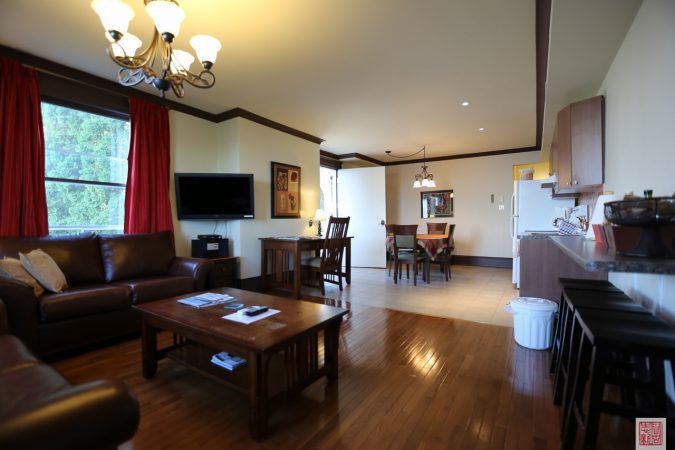 The spacious 1150 sq. ft. three bedrooms Murphy Suite located on the 2nd floor of the Villa comfortably accommodate three couples, a numerous family or a small group.   The suite has three bedrooms each with a queen size bed, two full bathrooms, a spacious living room, a work desk & library, a dining room and a fully equipped kitchen.  A pull down double bed is also available in the largest of the bedrooms.
More About the Murphy Suite
The two private balconies are what make this suite special. On the front, facing the lake, you can privately enjoy your morning coffee while contemplating the beautiful sunrise on lake Temiskaming. The largest side patio is furnished with a BBQ and a patio set for 6 people. This side patio also provides you access to the exterior hot tub and the garden.
The large property offers a large parking, gardens, and century old trees therefore providing something for everyone from ample space for groups to quiet private areas for relaxing. You can also enjoy our waterfront property and our private dock located just in front of the house.
The Murphy Suite is ideal for families, a small business meeting or group activity as the dining area and living room can easily accommodate up to 12 people.  Additional tables and chairs are available.
A Few Pictures of the Murphy Suite