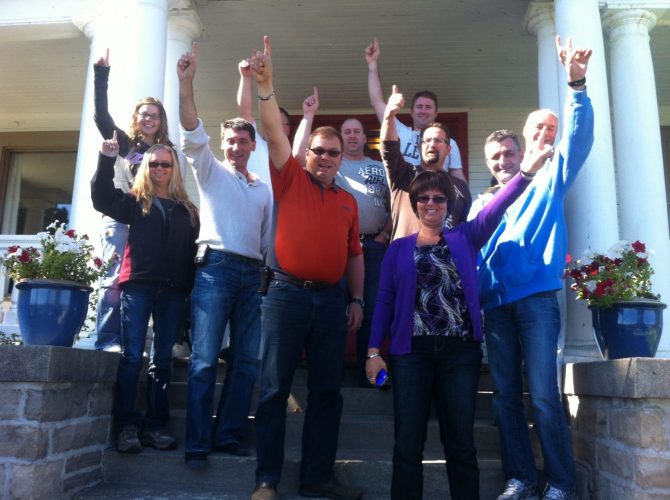 Business Stay Meeting Event
The Presidents' Suites is the perfect setting for your business stay meeting event.
 The ideal corporate venue for your retreat, get-together and celebration in beautiful lake Temiskaming region.  We are a bit outside of the usual way of doing things so companies & groups sometime hesitate to book with us, but once they do and experience what we can offer them, they get hooked and come back.
Please take a look at this short video which details why you should choose us for your corporate stay meeting event.
Discover our luxurious historical homes on the shores of lake Temiskaming for your corporate stay, meeting, retreat. The Presidents' Suites are exceptional homes in Haileybury)Temiskaming Shores) alive with a truly human warmth.
Our modern accommodations ensure that your stay with us will be truly memorable. Groups experience a different social interaction which seems particularly conducive to productive, meetings.
Why Choose Us For Your Business Stay Meeting Event
We can meet your needs whether you are staying by yourself, looking to meet with clients, looking to organize a meeting or retreat or to celebrate with employees and colleagues
An original concept that will motivate your team
Luxurious accommodations that focus on the rich history and art of the region
Unique opportunities for your team building activities
Our houses are located in historic Haileybury by beautiful lake Temiskaming. The President's Suites can offer a high-end solution at a reasonable price that will make a difference for your business or organization.  The perfect location for your corporate stay, meeting, retreat.
Team Meeting, Strategic Planning, Retreat, Get-together & Celebration
The Presidents' Suites could be that special place you've been wanting to find for your next meeting, planning session or retreat. A venue that is different, inspiring and unique so that your stay is truly memorable! What we are offering is a place to stay, eat, meet and relax together.
Are you looking for a new idea and a different place to celebrate with your team, to celebrate an achievement, to have your Christmas get-together or simply to thank your employees for a job well done? The Presidents' Suites offer different options where your group can get together and celebrate. You team members will appreciate, remember and thank you for a long time.
We offer an original concept that will motivate your team for your corporate stay, meeting, retreat. Our luxurious accommodations focus on the rich history and art of the region. We can offer you different options depending on your needs and the number of participants. We can accommodate groups of up to 25 people for meetings and accommodation, and even a few more if you want to invite other people or clients for a dinner or a reception.
For your meals and snacks you can bring your own and use our fully furnished kitchens or we can coordinate catering.
If you are looking for someone to facilitate your sessions and workshops, we have a local network of bilingual resources that could help you out.
Our Meeting Locations for your Business Stay Meeting Event
We can offer different locations in Haileybury for your business stay meeting event or retreat depending on the size of the group. Participants will truly enjoy the difference we are offering and you will be surprised by the effectiveness of your sessions.  Two of our large homes are set up for meetings and we also have other available options.  For accommodations, all of our historical homes can accommodate your group.
Our meeting rooms sites are equipped with high-speed fibre-optic wireless internet, projection screens, walls and boards with markers, health breaks areas …
The Lumber Baron's House
Large meeting room for 25 people
Two smaller break-out rooms
Outdoor patio seating 30 for meals
Large living & dining rooms for lunch and cocktails
The Villa
Meeting rooms for groups up to 14
Great views of the lake from the three patios
Separate areas for the meetings and meals
Private Farr Island
Meeting area under our large tent for groups up to 30
Kitchen available to offer snacks, wine & cheese or a BBQ
Several ideas for team-building activities on the 5-acre island
Accessible by pontoon (10 minutes away)
We also have other options for larger groups.
For groups of 25 to 75, we can work with other local venues that are within walking distance of the Presidents' Suites in Haileybury
Historic Haileybury golf course which offers a club house with a large patio overlooking lake Temiskaming, a meeting hall and a commercial kitchen
St-Paul'S church in Haileybury have a newly constructed hall that can be used for meetings and activities.  It is linked with a commercial kitchen
Haileybury curling club has a meeting hall also linked with a commercial kitchen
Haileybury waterfront pavilion is also great for a covered outdoor meeting or activity.
The following sections can be expanded to learn more about possible executive stays and worker lodging.
Book your next business stay meeting event or get-together at the Presidents' Suites
and enjoy first-class amenities in a truly different setting.
Contact Nicole directly to discuss your proposed activity
and she will be pleased to provide you with a quote and suggestions
to ensure your corporate stay is truly memorable.
We're looking forward to meeting you!
     Nicole at nicole@presidentssuites.com or call/text at (705)622-0279