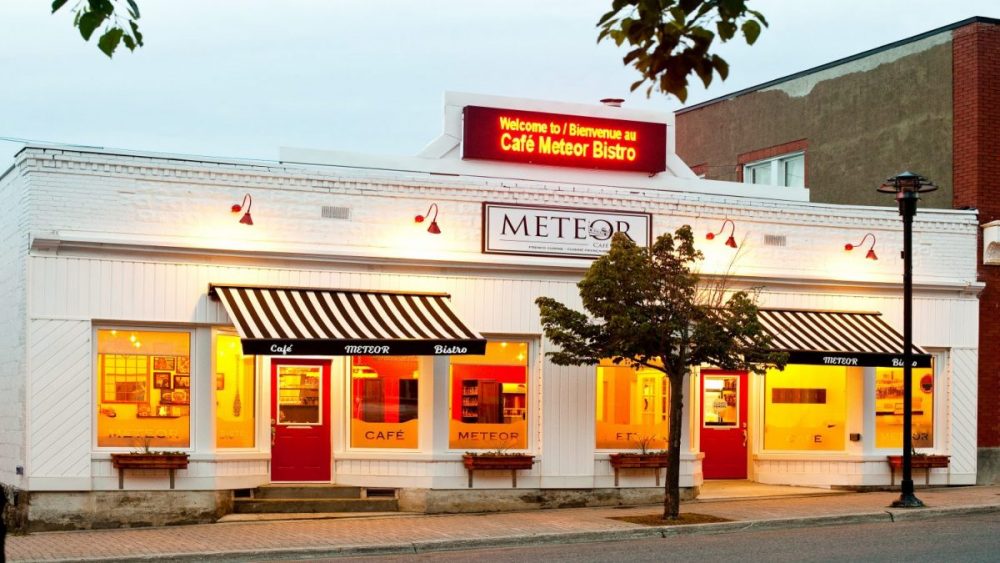 Nicole & Jocelyn wanted to have an impact on the revitalization of Haileybury's downtown core. They started exploring the idea of opening a café/bistro-type restaurant, and then restored a century-old building and the Cafe Meteor Bistro opened in the summer of 2017.  The upscale casual 46 seats licensed restaurant was named after the famous steamship the S.S. Meteor that navigated lake Temiskaming for 40 years and brought pioneers on both sides of the Lake.
The décor tried to recreate what the dining room of the Meteor could have looked like a hundred years ago.  The nautical theme was represented with shiplap, port holes and brass accessories.  In addition, some of the elements on the outside of the Café Meteor Bistro evoked an authentic, vintage feeling present in the glory days of Haileybury, such as the lamps on the outside wall and the awnings.
The menu consisted of comfort food prepared in-house with as many local ingredients as possible with a focus on fresh ingredients, creating colourful, textured, delicious, health-conscious foods.
The Café Meteor Bistro closed its doors in August 2019 as the restaurant was simply taking too much of Nicole & Jocelyn's time.  A new vision for the continuation of this beautiful project was already in development.