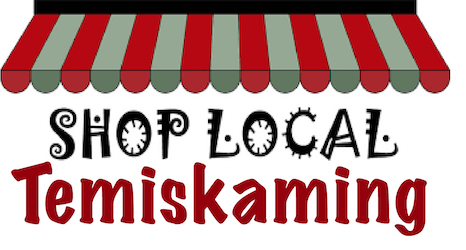 Learn about our local business of the month, Laura's Art Shoppe.  Why shop local Temiskaming?  Shopping locally offers residents a chance to give back and promote locally owned and operated businesses.   It is a way for residents to participate in the economic development of their communities. 
__________________________________
Highlighting A Business Of The Month
Every week we will highlight a local business and try to connect you with the business, its' owner(s) and the products being offered.  It is our way to promote the shop local Temiskaming movement.  It is important to shop local Temiskaming.
Laura's Art Shoppe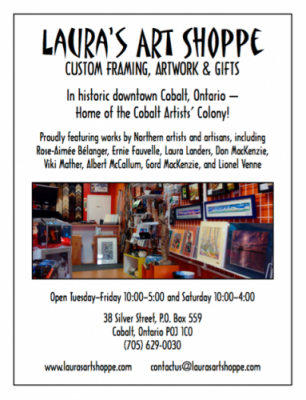 It is certainly worth taking a few extra minutes do drive to Cobalt to visit Laura's Art Shoppe.  You will find an array of works by regional and local artists and artisans. Beautiful carvings by Don MacKenzie, Stained glass and jewellery by Carmen Cantin and Drill Core pendants by Wendy Stanwick. Pottery by Viki Mather, Diane Béland, Sherry Phippen, Albert McCallum. Sculptures by Rose Aimée-Belanger and Ernie Fauvelle. Artworks by Lionel Venne, Laura Landers, Helen Hall and more.  You can learn more about some of these
local artists here
.  Visit the gallery's 
web site
to learn more about what you can find.
38 Silver Street, Cobalt     (705) 629-0030
Laura will custom frame your needlework, artwork and photos.   Watercolours, pastels, oils and family photos will all be handled with the utmost of care, and framed in quality products that will last a lifetime.  Laura enjoys it all, the end results being the best reward of all: seeing the reaction upon pickup by the customer.
Laura Landers
was born and raised in the copper mining town of Noranda Quebec. Even as a little girl she was always painting, drawing and even selling her 'early art' from door to door for spending money.  Later she lived in Espanola and Timmins and decided to move to Haileybury in 1984.    She then opened Laura's Art Shoppe and in 2012 set up downtown Cobalt.  Laura has taught numerous workshops and collaborates with local art organisations such as the
Temiskaming Art Gallery
, the
Temiskaming Palette and Bruch Club
and the
Cobalt Artists Colony
.  Besides having her paintings in numerous private collections, Laura has displayed her work in solo and group exhibitions. Laura's popular series, Slices of Temiskaming, currently available in print form, takes a whimsical look at life in a small Northern community.
__________________________________
See below a few expandable sections with additional information on buying local.
_______________________________
Shop Local Temiskaming – We Each Can Do Our Share  
Why should we each do our little share in supporting local businesses ?
Because we want to ensure that our communities are places
with vibrant downtowns
with healthy local businesses
where people will want to live
where people will want to retire
which attract young people.
Shop Local Temiskaming
To learn more about our region, visit the Destination Temiskaming Blog.