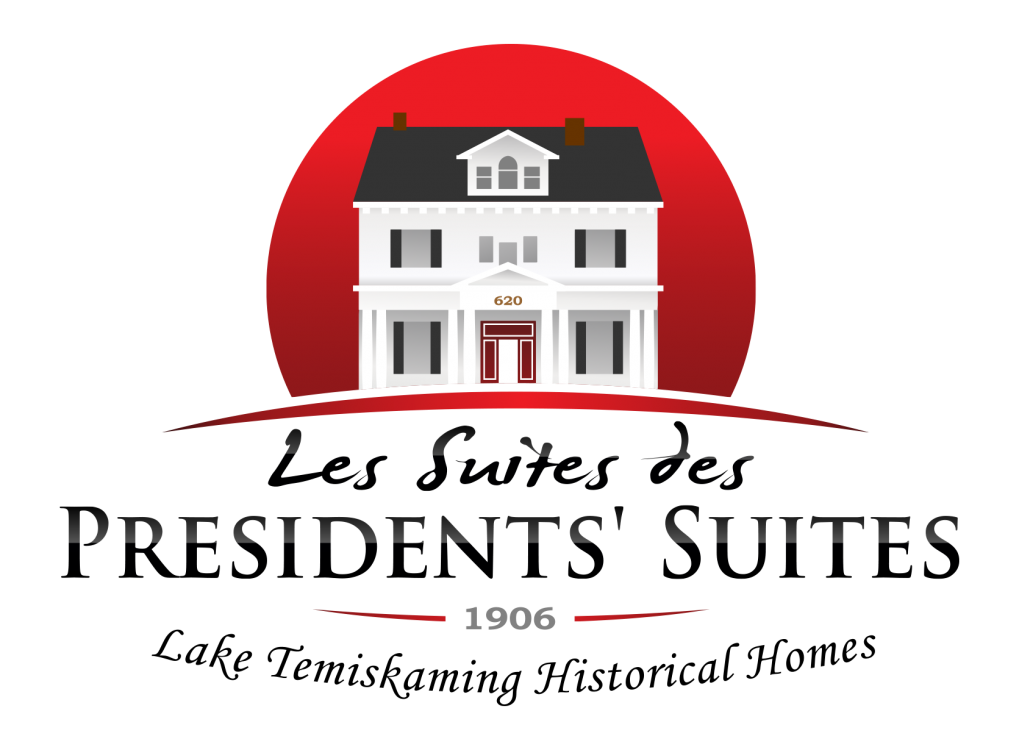 Just imagine for a moment ! Spending time on a private island; enjoying your morning coffee overlooking a sunrise on beautiful Lake Temiskaming in Haileybury; staying in award winning historical homes, discovering a region which was the birth of Canadian mining; learning about the first nations, voyageurs, miners, lumber barons and well-known artists and artisans; enjoying our huge natural playground with miles of trails, endless lakes, rivers, high cliffs and breathtaking sceneries… This is what the Presidents Suites resort is all about !
About the Presidents Suites Resort
The Presidents Suites offers a retreat experience that sets it apart from large resorts and from ordinary hotel accommodations. The Presidents Suites is exceptional homes alive with a truly human warmth. It is now being recognized as one of the most unique and innovative resort in Ontario and in Canada.
The Presidents Suites resort is located in the beautiful Temiskaming region in the heart of North Eastern Ontario. Our mission is to create for you're a most memorable stay. Our historical homes on the shore of Lake Temiskaming in Haileybury is the perfect destination in Ontario for your vacation home rental, family reunion, friends gathering, spa getaway, destination wedding, work trip, corporate meeting, and wellness retreat. Whether you choose to relax, golf, hike or enjoy our many recreational year-around activities, both indoors and out, we have something for every member of the family.
The Presidents Suites is small in size with its five historical homes, its twenty-three rooms, and its private island. What makes it feel larger are the innovative historical activities and all is the successful collaborations with local assets such as the Historical Haileybury Golf Course, the Cobalt Mining Museum, the Village Noel Temiskaming, the Temiskaming Nordic Ski Club and several others. These value-added activities and collaborations are what will make this difference in the creation of your own memorable experience.
Nicole and Jocelyn, the owners of the Presidents Suites live every day for their mission to create for you're a memorable stay. With Nicole and Jocelyn you will have this direct interaction with very contagious passionate people.
_________________________
The Presidents Suites, recipient of the Trip Advisor 2014 and 2015 Certificate of Excellence recognition.
Link To Our On-Line Corporate Brochure