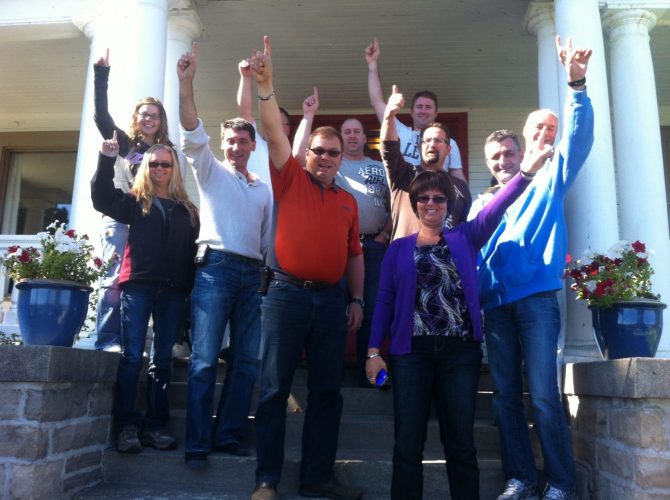 Corporate Stay, Meeting, Retreat
The Presidents' Suites is the perfect setting for corporate stay, meeting, retreat, get-together and celebration in Temiskaming Shores.
We are a bit outside of the usual way of doing things so companies & groups sometime hesitate to book with us, but once they do and experience what we can offer them, they get hooked and come back.  Please take a look at this short video which details why you should choose us for your corporate stay, meeting or retreat.
Discover our luxurious historical homes on the shores of lake Temiskaming for your corporate stay, meeting, retreat. The Presidents' Suites are exceptional homes in Haileybury alive with a truly human warmth.
Our modern accommodations ensure that your stay with us will be truly memorable. Groups experience a different social interaction which seems particularly conducive to productive, meetings.
Why choose us for your corporate stay, meeting, retreat ?
We can meet your needs whether you are staying by yourself, looking to meet with clients, looking to organize a meeting or retreat or to celebrate with employees and colleagues
An original concept that will motivate your team
Luxurious accommodations that focus on the rich history and art of the region
Unique opportunities for your team building activities
Temiskaming Shores – A Regional Meeting Hub
A different location, strategically located as a regional meeting point, which will enable you to take time from your hectic daily schedules. Temiskaming Shores is strategically located in the Northern Ontario and an acceptable driving distance for your team from most locations in Northern Ontario and Quebec or urban centers.
Looking for the ideal location for a 1-2 day meeting. We are less than 3h drive from Timmins -Sudbury – North Bay – Rouyn-Noranda – Val D'Or.  For a 2-3 days retreat, we can offer a more affordable option than the Muskoka region. For only a few more hours of driving, you will be in a totally different environment. We are just a little more than a 5h drive from Toronto and Ottawa.
Our houses are located in historic Haileybury by beautiful lake Temiskaming. The President's Suites can offer a high-end solution at a reasonable price that will make a difference for your business or organization.  The perfect location for your corporate stay, meeting, retreat.
Book your next meeting or get-together at the Presidents' Suites and enjoy first-class amenities in a truly different setting. Contact Nicole directly to discuss your proposed activity and they will be pleased to provide you with a quote and suggestions to ensure your corporate stay, meeting, retreat is truly memorable.  We're looking forward to meeting you!
     Nicole at nicole@presidentssuites.com or call/text at (705)622-0279