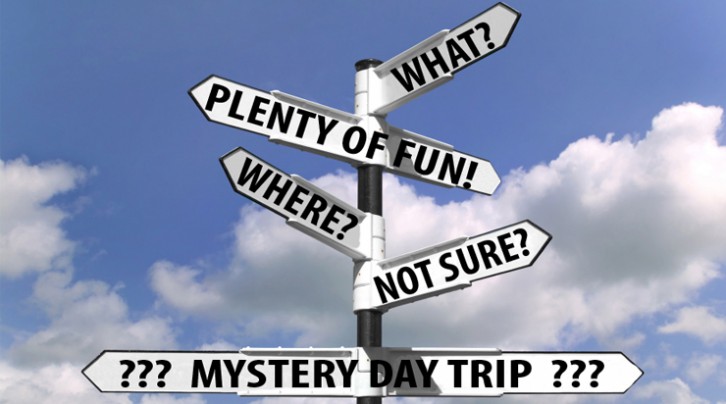 Let your imagination run wild as you and your group travel to mystery locations for a fun mystery day out.   Well, you'll be surprised to read that we can't tell you anything – otherwise it would no longer be a mystery. Suffice to say we have brilliant spots lined up to visit and, of course, beautiful scenic countryside to enjoy all the way. You will not really know where and how you will spend the day. We guarantee a fun day where you will discover a beautiful region and meet great people.
What Is a Mystery Day
The concept is simple. You will take a leap of faith and put your day-trip itinerary in the hands of Nicole. Where you're going, what you're doing and what you're eating are all secret. The mystery days are part of the Presidents' Suites activities available to our guests. It is truly unique and you simply cannot live this experience elsewhere. Mystery trips are popular in Australia, England, and in the Unites States but it doesn't really exist in Ontario and Canada.
Prepare to be "moved" by this mystery!  Your mystery day keeps you guessing.   Where will we go ? What will we do ? The only thing we will tell you is that it will be truly be a memorable experience.
We will provide you envelopes with your clues, maps and everything you need to know to start your day. As your day continues, you will get more clues.
Your Mystery Trip
The mystery day will introduce you to some of the most fun, cool, places and people in our Temiskaming region. Each trip is custom-made just for you and will never be replicated. A Mystery Trip generally lasts 4-8 hours and consists of several stops.
Nicole is the person behind all the mystery. She spends time researching, planning and executing the trip for you. She will ask you a few questions to better tailor the day for you and your group. For example, are you outdoor people, are you foodies, are you a history fanatic…
The price of the event is really the budget you want to put behind it. It will completely depend on what activities you will do and what is included. Nicole will design your day based on your budget. For example, we can provide you with a 'brown bag lunch' to be taken by a waterfall or we could send you to discover a fine bistro type restaurant where your meal is prepared with local food. Gifts could also be included in some of the stops. The budget could vary anywhere from $50 to $200/person.
Our mystery day is the perfect idea for a gift certificate for your parents, children, and friends.
Our children offered us a Presidents' Suites mystery day as a gift for our wedding anniversary.  Wow!  Such a great gift and we never anticipated having so much fun.  I discovered so much in one day – things that I would never have found by myself.  Such a beautiful region.  My husband really appreciated being able to do this at our own paste, we didn't feel rush.  There was a nice mix of outdoor, culture, history and good food.  Thanks so much and this is a must to try out.  We will certainly return to the Presidents' Suites with both our families to celebrate our 50th birthdays.

Renée, Kapuskasing

Possibilities During Your Mystery Day
Your mystery day in the Temiskaming region is organized for you by Nicole and is part of the Presidents' Suites activities available to our guests.