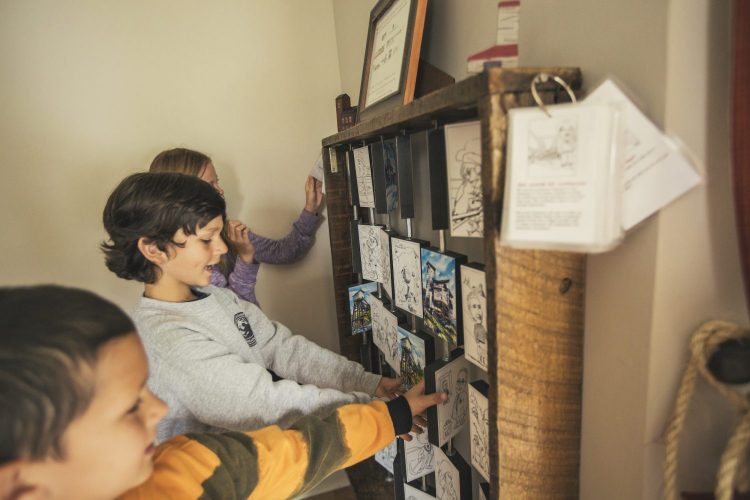 The rich history of the region is very important for the Presidents' Suites and we are trying to convey this history over to every one of our guests.  We have developed a few of our historical games which are aimed at children but also appreciated by people of all ages.  We have two memory games and a colouring book.
Our Historical Games
All of our historical games, both our memory games and our colouring book were developed as part of the Prospector's House design concept.
The Headframe Memory Games
The physical copy of the game can be found in the dining room of the Prospector's House.  On the one side, it has  duplicate copies of head frames and you are trying to guess where the duplicate is located on the board.  The head frames pictures were drawn by a well-known local artist, Laura Landers.  An on-line version of the game has been developed and can be played with the link below.
Click Here to Play Our Memory Game
The Prospector's Guess Who Game
On the other side of the memory game, you have a  Prospector's Guess Who game. Thirty pictures of well-known prospectors were again drawn by Laura Landers.  Each player selects a card of their choice from a separate pile of cards containing the images of the prospectors. The object of the game is to be the first to determine which card one's opponent has selected. Players alternate asking various yes or no questions to eliminate candidates, such as "Does this person wear glasses?" The player will then eliminate candidates by flipping those images down until all but one is left.
The Colouring Book
We have developed a colouring book entitled 'The Amazing Lives of Cobalt-Haileybury' Prospectors'.  You will find in the book the 30 pictures (black & white versions) of the Prospector's which were drawn by Laura Landers.  With each picture, you have a short paragraph which provides historical information about the prospector.  For example, you will learn that Jack Munroe's dog inspired the famous television series Lassie.
The following prospector's have a place in our colouring book: Clement Foster, William Trethewey, Hugh Kerr, Father Charles Paradis, Leo Ernhous, Jack Munroe, Jack Hammell, Jack Burne, Bob Jowsey, Berry Hollinger, Alec Gillies, Sandy McIntyre, Harry Oakes, the Tough brothers, William Henry Wright, Ed Horne, Arthur Cocheram, Fred Thompson, Lorne and Ray Howeym Bill and Ed Cochenoeur, Dan Willans, Major C.J.A. Cunningham-Dunlop, Alex Mosher, Murdoch Mosher, Bill Smith, Gilbert Labine, Murray Watts, the McDonough brothers, Evan Thomas Donaldson and Alexander Danny Hellens.
Our guests can pick up free copies of the colouring book in any of our historical homes in Haileybury.  The book can also be purchased on-line from our 'products' page of the web site.  Here's a PDF copy Prospector's Colouring Book  in case you are interested in taking a peek.
If you decide to stay at the Presidents' Suites, we hope that you will appreciate our historical games and that you will return home with a copy of our colouring book.