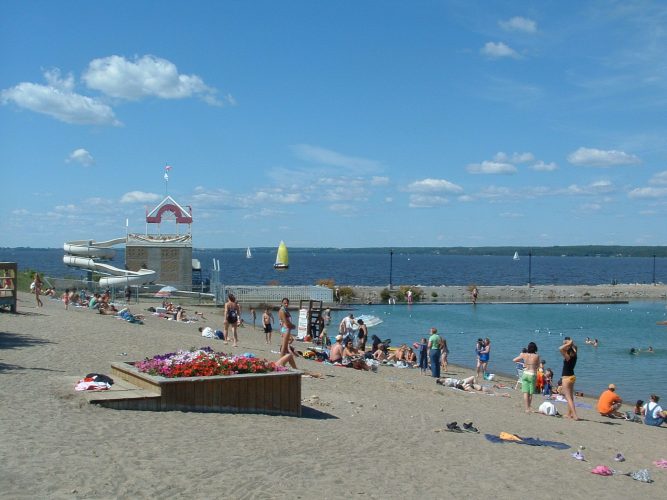 Spending a few hours at the Haileybury waterfront is one of the best to-do activities in the community with its public beach, water slide, playground, pavilion and marina. The view of lake Temiskaming is just great and you'll see an impressive number of sailboats on the lake.  The Haileybury waterfront is a great place to discover either with your morning or evenings walks or by spending a full afternoon with the entire family.
More About the Haileybury Waterfront
If you have children, you want to try the public beach and the water slide which is an important part of Haileybury's waterfront. The fully serviced quite unique man made pool on beautiful Lake Temiskaming is approximately 100 meters square and is fully supervised during summer months. The water is treated and the break-water walls ensure a very safe environment for your children.  It also features a 150 ft water slide; a children water park with a water fountain, and a water umbrella and a kiddie pool nicknamed "the mushroom". A playground is just adjacent to the water park as well as picnic areas are also available.
But the Haileybury waterfront is so much more than just a beach. The Haileybury marina is another part of the complex that is worth seeing with its 176 boat slips divided into two distinct sections. Most of the sailboats are in the same section and the view is impressive. If you are in Haileybury Wednesdays, you need to see the sailboat outing when they leave the marina for a friendly race. It starts at 6pm. The Haileybury waterfront is a great location to have your sailboat as the winds always makes it easy to depart or return to the marina. The Temiskaming Shores sailing school is a few steps from the Haileybury waterfront. You can rent a sailboat for $5 on Tuesday evenings. Adult and youth courses are also offered at different times in the summer.
A pavilion is also used for outdoor activities at the Haileybury waterfront. Art in the Park, organized by the Temiskaming Art Gallery (TAG) also takes place Wednesday evenings every two weeks during the summer. You will find music, art and a bit of food. Weddings and other types of celebrations can also take place under the pavilion. ,
The Pioneer's Spirit Monument, a sculpture by the well-known local artist Ernie Fauvelle, honouring the Great Fire of 1922 is beside the pavilion. The Haileybury fire is one of the 'ten worst disasters in Canadian History'. Within six hours in October 1922, 90% of the town was destroyed leaving 3000 people homeless. The residents were forced to take refuge in the cold waters of lake Temiskaming and cover themselves with blankets.
The Haileybury waterfront is worth a drive and a full stop.