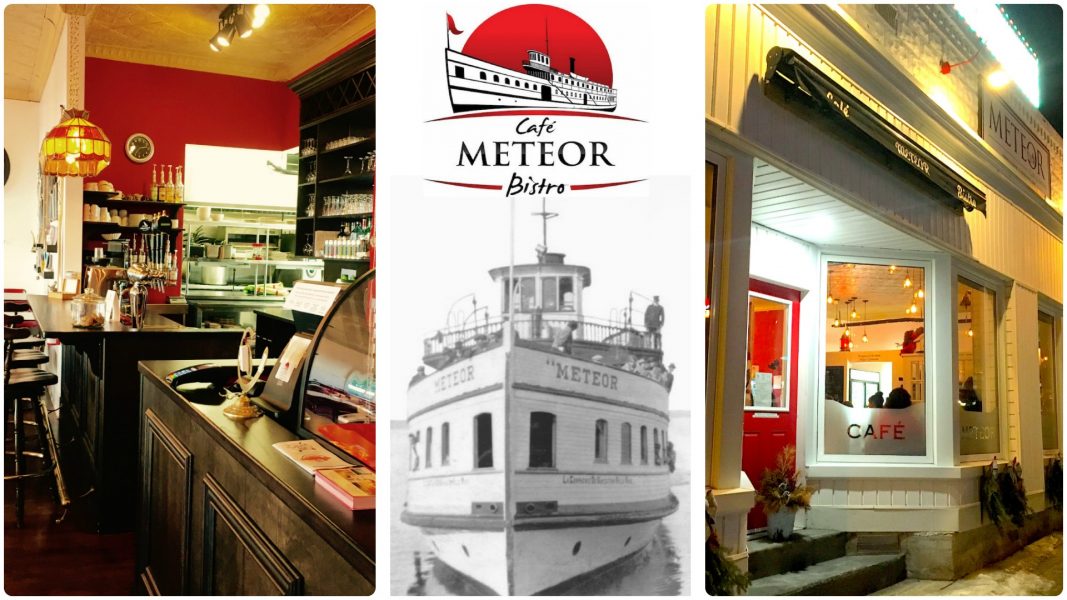 All aboard the Cafe Meteor Bistro adventure….   The adventure of the Cafe Meteor Bistro, a project which ended too soon, an innovative venture that lasted from 2017 until mid 2019.
All aboard! Experience the exceptional food, service and atmosphere of the Café Meteor Bistro.Tout le monde à bord du Meteor pour une expérience culinaire et un service sans pareil!

Posted by Café Meteor Bistro on Monday, February 25, 2019
The Idea Behind Cafe Meteor Bistro
For Nicole & Jocelyn, co-owners of the Presidents' Suites, the main reason behind the restaurant was to provide a kickstart for the revitalization of Haileybury's downtown core and to provide quality food in the community to their guests staying at the Presidents' Suites.   Nicole Guertin  & Jocelyn Blais, always believed and still believe today in the tremendous potential in this community, being located by lake Temiskaming with one of the most beautiful marina and public beach in Northern Ontario.  This community can become a destination for a lot of people, both tourists and people looking for a place to settle down.
Back in 2016, Nicole & Jocelyn were intrigued by a book they read, Town Inc. Grow your business, Save your town, Leave your legacy by Andrew M. Davis.   The book was presenting the difference between communities that prosper and others that are struggling.  Prosperous communities had visionary business leaders relentlessly fostering an audacious claim about their business, community and region.  So why not make Haileybury trendy again back like it was 100 years ago!  Back in 2015-16, 40% of Haileybury downtown commercial buildings were empty.  Average house price in Haileybury was 35% lower than in New Liskeard.  Population was aging…..
In 2016 Nicole & Jocelyn decided to start exploring the idea of opening a trendy café/bistro-type restaurant.  An empty century-old building was acquired at 485 Ferguson, restored and the Cafe Meteor Bistro opened in the summer of 2017.  The century old-building was for several decades home of Abraham's Men's and Ladie's Wear Store.  To read more about the Abraham family.    The Meteor was in operation from June 2017 and closed late summer 2019.  It was sold to Whiskeyjack Beer Company,  where a micro-brewery / resto-pub is now successfully operating.
About the Cafe Meteor Bistro Decor
The Café Meteor Bistro was inspired by the famous S.S. Meteor steamboat that navigated Lake Temiskaming for 40 years and brought pioneers on both sides of the lake.  To learn more about the history of the S.S. Meteor we invite to read this blog post written about the steamboat.
As the Meteor was inspired by the famous S.S. Meteor steamboat, the decor inside our restaurant reflected the interior of the dining room on the steamer.  The décor tried to recreate what the dining room of the Meteor could have looked like a hundred years ago.  In fact, there was a physical piece of the boat that was hanging from the ceiling.  The nautical theme was represented with shiplap, port holes and brass accessories.  In addition, some of the elements on the outside of the Café Meteor Bistro evoked an authentic, vintage feeling present in the glory days of Haileybury, such as the lamps on the outside wall and the awnings.  For the morning and lunch, a well-lit, cozy and comfortable atmosphere was provided.  A more upscale, intimate, bistro-style atmosphere was introduced for dinner and the musical evenings.  The licensed restaurant could seat up to 45 guests.
About the Cafe Meteor Bistro Cuisine
The Café Meteor Bistro was considered an upscale casual restaurant and was opened 6 days a week.  The cuisine was developed around key concepts important to both Nicole & Jocelyn: healthy food, local ingredients, sustainability and the ability to accommodate dietary restrictions.  Everything was cooked from scratch in our kitchen.  As part of the morning café, a great selection of coffees and teas were offered along with fresh pastries.  Our comfort food lunch menu was changing on a weekly basis.  Dinner offered an upscale bistro-style menu along with a great selection of craft beers, Ontario wines and cocktails inspired from the early 1900's era.  Sunday morning brunches were also very popular especially with our eggs Benedict and our selection of french crêpes.  You can take a look at what our menues looked like here:  On-Line Menus.  Early 2019 we also looked at the possibility of launching a Meteor at Home Meal Program, offering semi-prepared meals,  but it never materialized although everything was ready to go.
In just over 2 years, the Café Meteor Bistro, had developed a reputation for some of the best food our beautiful region had to offer, carefully prepared with passion, tradition, and love.

Cafe Meteor Bistro – A Social Hub
Before the Cafe Meteor Bistro, it was rare to see a busy downtown core.  Now, Haileybury is becoming a trendy place to be.  It is becoming a social hub.  Since the launch of the Meteor project, several other businesses have join the movement:  Zah Pizzeria & Gelato, L'Autochtone, Open Studio Libre, Whiskeyjack Beer Co. , Co-Worx.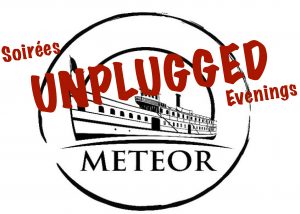 The Unplugged Evenings held regularly at the Meteor were also part of developing this social hub.  There will always be a high demand for unplugged live music venues.  However, times have changes live music venues similar to what were once the 'boîte à chanson' are now very rare.  The Meteor Unplugged evenings were designed for providing an unrivalled listening experience that exposes the talents, local and emerging from elsewhere.   The Meteor offered over 40 shows with most of them being sold-out. The repertoire included folk, jazz, blues, country, traditional and beyond.  We can say that Steve Benoit was our in-house artist with several shows including his very successful Elvis, Johnny & Me show.  Here is a list of the other artists that performed during the year and a half the evenings were held: Piper & Carson, Philippe Thériault, André Thériault, Yoland Sirard, Justin St-Pierre & Michel Gentils, Lisa Benoit & Renée Hacquard, Benjamin Hermann & Rose-Erin Stokes, Lou Benoit, WoodRock, Thomas Carbou, Simon Rivard,  Jamie Dupuis, Terry Rosicki, the Flash Backs, Stephen Ouellet, Robyn Dewar, Belle Lurette, Ian & Steve Band, Alain Héroux, North Easton, Jenn Morin, Heidi Korte, Craig Cardiff, Colombe Hinse, David Laronde, Mellowman, Joelle Roy, Vienna D'Amato Hill, David Newman, Sunsdrum, Esther Pennell…
Here is a short video of our last Unplugged Evening with Piper & Carson.  It was a lot of fun and great memories from all these musical nights with terrific artists.
What a great way to end our last Unplugged Evening at Café Meteor Bistro with Piper & Carson. In the last 2 years we supported local, regional and other artists from Canada and the United States with over 40 shows. Thank you to the artists and to everyone who attended // belle soirée pour notre dernier spectacle au Meteor. Merci au Centre Culturel Artem d'avoir été un partenaire dans cette aventure.

Posted by Café Meteor Bistro on Saturday, August 24, 2019
Social activities were also held at the Meteor. Activities organized by groups like Temiskaming Climate Action Network with their Climate Café, Seeds & Suds…  A few of our Presidents' Suites Guest Speaker events were also held at the Meteor: My Tiny Home with Carole Lyne Robin, the Modern Prospector with Jessica Bjorkman.
Cafe Meteor Bistro was all about people.  It was an inclusive place.  People felt at ease.  People came from both sides of the lake, came from up north, came from the south…  A comment often received from visitors was: can you come an open a beautiful place like this in our city?  This was always a surprising comment from southern Ontario visitors.
An Attempt to Create a New Cooperative Business Model
A year before the closure of the Meteor, an attempt was made to convert to an employee and then to a community driven cooperative business model.  It was clearly an innovative approach to ensure the continuation of the Meteor, probably too innovative.  At the end, it did not go through when it was realized that the leadership needed to head the project was not there.   The Meteor was operating at an annual revenue of approximately $650,000, was creating 15 direct local jobs.  But on the longer-term it needed and had the potential of being a $1M/year profitable business and to be playing a key social, economic and environmental roles in the community.
A Final Word on the Cafe Meteor Bistro Adventure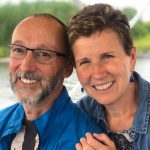 Cafe Meteor Bistro was a great place…   It needed a bit more time but Nicole & Jocelyn knew that deep inside they were not born restauranteurs, they ran out of energy and they still had too many other ideas and projects to initiate.  They decided it was time to let go and try to see if someone else could take the Meteor to the next step.  It is difficult to find people interested in taking on a restaurant.  The concept of developing a community coop to take over was looked upon but it was realized that the leadership needed to head the coop was not there.  By selling to Whiskeyjack Beer Company, something trendy would continue in the historic building.  The concept would be different but the development of downtown Haileybury, which was the reason behind the original project, would continue.      Life goes on!