Let's take a walk through TIME.  From day one, George Morissette's vision was to combine machining and customer service.  In 1971, TIME was formed out of the Morissette Manufacturing & Diamond Drilling group to serve the drilling & mining industries but also to supply the forestry, construction and agricultural sectors. TIME Limited started as a manufacturer and distribution service in Haileybury to become a renown one-stop shop.  The acronym TIME stands for Temiskaming Industrial Mining Equipment.
George was the son of Napoléon Morissette.  Napoléon started N. Morissette Diamond Drilling in 1926 and the Haileybury company steadily grew to become Canada's largest and one of the world's most prolific underground and surface diamond drilling contractors.  In 1954, Napoléon pioneered the concept of 'fly-in' helicopter supported drilling programs.  Camps and drilling equipment were dismantled into 'heli-portable' components and flown into remove areas of the country and reassembled on site.   The company and Napoléon were awarded multiple patents for inventions and technical developments and equipment used in diamond drilling applications.   George established and ran Morissette Manufacturing while the Morissette's other son, Ron, worked on the drilling side.
TIME, The Evolution
Over the years, the progression has been interesting. In the 70s, TIME amalgamated with two other competitors. In the 80s, a retail outlet was established in New Liskeard to better serve local industries. In the 90s larger premises were built as well as office facilities and diversification was brought to offer different product lines such as Honda, Husqvarna, Lincoln … Later with the closing of Longyear's Haileybury manufacturing division, TIME refocused on manufacturing and distributing to the mining and drilling sectors and added additional manufacturing capacity. Sales and stocking warehouses were opened in Sudbury, Val-d'Or and Timmins.   Between 2011 and 2013, the head office & distribution center were relocate to the manufacturing location following a 21,000 sq ft expansion, placing all of the local TIME operations together under one roof in Haileybury.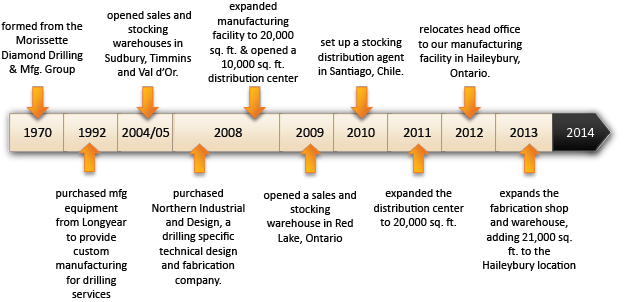 TIME , Today
Today TIME ships on all continents but most of their business come from North America. TIME's most effective marketing strategy is the word-of-mouth with the labour-force movement being high in the mining and drilling sectors. As people move around, they spread the word about this respected one-stop shop supplier in Haileybury.
Most local people do not even realize that TIME is still around as the company is not visible from a major travelled road. But they are still buzzing with state-of-the-art CNC milling machines, CNC lathes, conventional lathes, bending machines, welding machines, presses, and even a small on-site foundry where they melt zinc bars into their own designed specialty products. Some products are designed and custom made for specific clients. The company employs approximately 45 employees, with half-being in manufacturing. Their employees total more than 250 years of accumulated expertise. Roughly half of the products are manufactured in-house and the other half being distributed products from other manufacturers. One of their challenges today is finding machinists trained on the latest technologies.  (* CNC – Computer Numeric Control: is the automation of machine tools that are operated by programmed commands stored in a computer).
TIME, The One-Stop Shop
The local owners' mission is to offer solutions to their customers and this is really what is driving and differentiating the company. TIME carries over 5000 in-stock products through their sourcing and industry experience, are able to access an even wider range of products to meet their customer needs, on a timely basis.
It is always interesting to learn about our locally grown success stories and how we can supply products throughout the world from our own Northern Ontario community. TIME is a proof that we can run a successful business by finding a niche market and focusing on customer satisfaction.
To find out a bit more about TIME Limited and their services, please visit their web site.

I hoped you enjoyed 'A Walk Through TIME'
___________________________________________________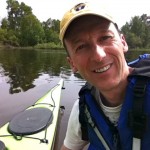 This Special People and Places blog post was written in July 2016 by Jocelyn Blais, a volunteer collaborator to the Destination Temiskaming blog, an engineer, an entrepreneur, and a nature enthusiast. Click here to learn more about Jocelyn.