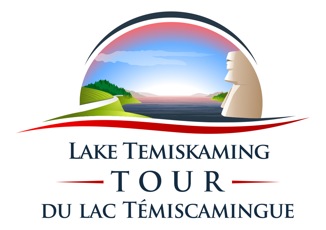 The Quebec Side of the Lake Temiskaming Tour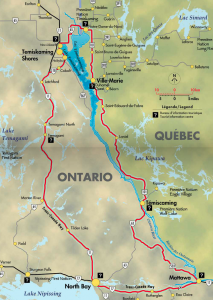 Everyone should take the Lake Temiskaming Tour!  With a focus on promoting communities, attractions and events all around Lake Temiskaming, this unique cross-border tourism initiative 450km circuit is a great way to discover our beautiful Temiskaming region. In this part 1 of 2, let's now discover the Quebec side of the Lake Temiskaming Tour.
The Quebec Side of the Lake Temiskaming Tour
For the people that have not yet taken this route via highway 101, it is worth the trip. You will find a winding road, beautiful views of Lake Temiskaming, hillside farming fields and quaint little villages& communities. Travelling the Quebec side of the Lake Temiskaming Tour is a very different experience than taking the Ontario side. It might take you an extra 30 minutes, but the drive is worth it. Don't worry, most people will be able to help you in English.  The Quebec side will take you from Notre-Dame-du-Nord to Témiscaming and the route is broken down by locals into three distinct regions.
Northern Témiscamingue
Northern Témiscamingue is composed of the communities of Notre-Dame-du-Nord, Nédélec, Guérin, Rémigny and Angliers.  It is probably best known to tourists for the Truck Rodeo and Western Festival events held every summer.
Here's a few top picks for this region to discover:
The Fossilarium – a great museum for the entire family.  Over 1000 fossils to discover!

The T.E. Draper Historical site – visit a log-boom tugboat and a logging camp
The Breen Estate – visit an ancestral home

The Récré-eau des Quinze trail system – 25 km of hiking trails along Rivière des Quinze.  You will also find a 45km cycling trail long a former segment of the CP railroad.

Central Témiscamingue
Central Témiscamingue is composed of the communities of Ville-Marie, St-Bruno-de-Guigues, St-Eugène-de-Guigues, Laverlochère, Lorrainville, Duhamel-Ouest, Béarn and Fabre. There is a lot to discover but the highlight for this region is certainly the gourmet tourism and agrotourism.  You can't miss the Foire Gourmande which attracts over 30,000 visitors every year.
Here are a few places you might want to stop for a gourmet delight:
L'Éden Rouge – Healthy eating and high-quality food.  Most of the garden vegetables are from their greenhouses.
Resto bar aux trois petits cochons – A nice place to have lunch
Bistro Elle et Louis – A cuisine you would find in Montreal or Quebec City.  The menu is unique and has been designed by the two owners, one side by Elle (Nadia) and the other side by Louis

La Bannik –  A picturesque and enchanting setting located on the shores of  Lake Temiskaming in the municipality of Duhamel-Ouest
Chez Eugène Bistro Inn – Haute cuisine with a lake view terrace
Chocolat Martine – Pick up homemade chocolates to bring back home
Barbe Broue Pub  – Very interesting beers from this microbrewery and you will also get good food plus live entertainment.

Southern Témiscamingue
Southern Témiscamingue is composed of the communities of Témiscaming, Kipawa and Laniel.  The Kipawa Countryfest is a popular annual festival but what is unknown to most people is the Kipawa River Rally held in June.
Here's a few top picks for this region to discover:
The Kipawa River by kayak, canoe or raft.  The Kipawa has been rated as one of eastern Canada's best intermediate whitewater rivers.  It offers a 16km run with 18 named rapids and a 90 foot waterfall

The Grand Chute Trail – Is  part of the Kipawa river trail

The Railway Museum – You will find permanent and temporary exhibitions in the beautiful old Témiscamint station venue
The Roger Labrosse Biking loop –  9km of the railroad network was transformed into a multi-use path

The National Opemican Park

The National Opemican Park will be opening in 2019 along the Quebec side of the Lake Temiskaming Tour. This project, located in the southern Témiscamingue region,  is the most important tourism initiative along the Lake Temiskaming Tour region of the last few decades with an investment of $36 million and it is expected that it will attract 40,000 visitors per year. When it opens in 2019, Parc national d'Opémican will become a unique discovery site being at the junction of the deciduous and boreal forests and with its remarkable rugged landscape with many cliffs mainly along Lac Témiscamingue. The territory is rich in history as it has been walked by aboriginal populations, travellers, loggers and the first settlers. Pointe Opémican in the core of the park as it represents the beginnings of logging and log driving. Several historical buildings will be restored. As a region, we really need to incorporate this upcoming major attraction into our planning process in order to benefit from all this additional inflow of visitors.  Here is a link to a very informative brochure about this exceptional project.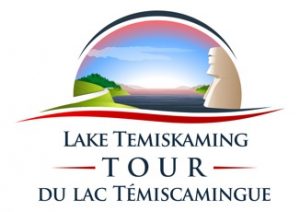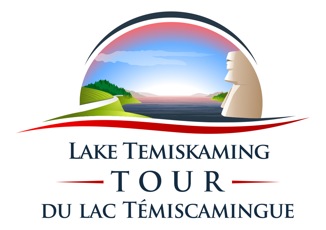 For the last three years, the Lake Temiskaming Lake Tour initiative has been publishing a yearly tourism brochure.  This year, the efforts have been targeted in the creation of a new regional web site covering the entire Temiskaming region and this on both sides of the lake.  The site should be launched very shortly.  In the meantime, you can take a look at last year's brochure at www.laketemiskaming.com.  I hope you appreciated this part 1 of 2 about the Lake Temiskaming Tour.  Part 2 will be about the Ontario side of the Lake Temiskaming Tour.
__________________________________________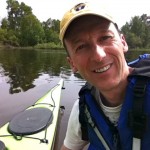 This Special People and Places blog post was written in July 2016 by Jocelyn Blais, a volunteer collaborator to the Destination Temiskaming blog, an engineer, an entrepreneur, and a nature enthusiast. Click here to learn more about Jocelyn.