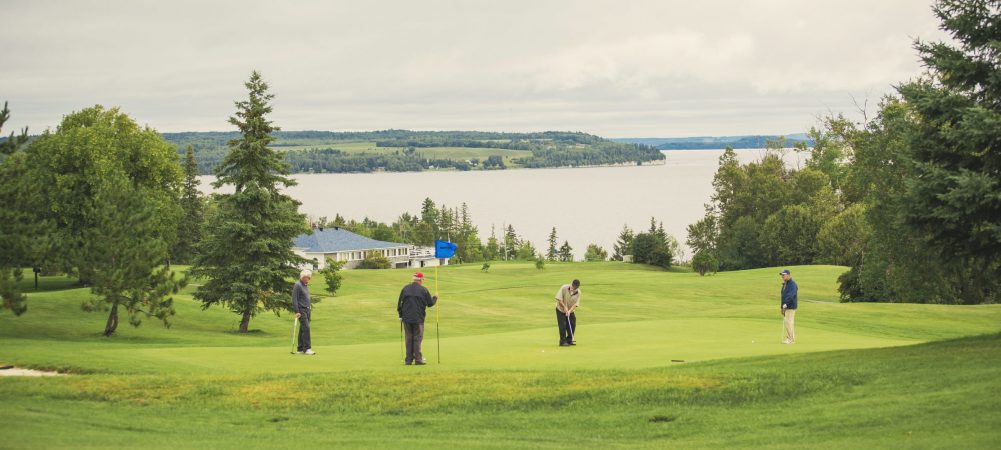 Haileybury Historic Golf Course
If you're a golfer, you cannot travel Northern Ontario without playing the Haileybury Historic Golf Course and even better, you could combine with a stay at the Presidents' Suites, just a few blocks away from the course.  We will accommodate you weather you are vacationing as a couple, family or a golfing group.  We often help golfing groups plan their stay in the region which may include our historical evening.  Do not hesitate to contact us as we can certainly advise you activities to do and places to see during your stay in Temiskaming Shores.
About the Haileybury Historic Golf Course
The Haileybury Historic Golf Course was established in 1921 when the millionaires of the Cobalt Silver Rush decided to bring the sport to Northern Ontario. It is one of the oldest courses around and also one of the most beautiful around with a view of Lake Temiskaming on eight of the nine holes. At the time it was built, the closest courses were in Renfrew. This nine-hole course is a challenging one with every green sloping in several directions. You can play this course several times, and your line will never be the same.
When you arrive at the golf course, you will meet with friendly staff. The facilities include a clubhouse with a large outside deck, a fully licensed bar, a pro shop, and a rental area. The clubhouse is often used for receptions, weddings or even corporate meetings and gatherings.
We invite you to visit the Haileybury Historic Golf Course website for more information and beautiful photos.
Why Not Consider A Stay Of A Few Days
We would like to propose a very interesting option.
Staying at the President's Suites for a few days and try out a different golf course in a totally different setting every day.   When you come back, you are in the comfort of your own historical home or suite, you can enjoy the lake or a nice spa in the evening.
A short golfing vacation in our beautiful Temiskaming region with your friends, with a few couples or simply enjoying a few days with your spouse or partner.
Take a look at our proposed 3-day plan
Day 1
Play 9 holes at the Haileybury Golf Club located just a few minutes away from the President'S Suites and try the Redstone driving range in Haileybury and then visit the miniature car gallery (over 3500+ cars) located adjacent the driving range.  The car gallery is definitively worth the visit.
Day 2
Golf 18 holes at the New Liskeard Golf Club located just a 10 minutes' drive from the President's Suites. Established in 1967, it is the only 18-hole course between North Bay and Timmins.  The par 72 layout will provide challenging golf and breathtaking views.
Day 3
Taking a day to golf on the Quebec side is a nice change.  The Club de Golf Ville-Marie is surrounded by mountains and is located between lake Temiskaming and lake Laperriere.  Built in 1961, this 9 holes, par 35 is accessible to everyone. You will find a few excellent restaurants in Ville-Marie so on top of your golf, you can enjoy a great meal to complete your day. Several good bistro type restaurants are available ( La Bannik, Elle et Louis, Le Coucoushee, L'Eden Rouge) as well as a micro-brewery, Le Barbe-Broue Pub.   A walk downtown Ville-Marie is also very pleasing.  A few chocolates at Chocolats Martine will be a great gift to bring home. Ville-Marie is a 45 minutes' drive from the President's Suites.  You will be following the shores of lake Temiskaming and the spectacular views will certainly please you.
On Your Returning Day
If you are returning south, then you could golf in the North Bay region, which offers you 8 golf courses.  Why not take the Lake Temiskaming Tour route to get to North Bay.  One way you can drive on the Ontario Side and then the other way on the Quebec side.  You will certainly enjoy.
If you are returning north, you might want to add an extra day to play in North Bay and do a bit of shopping.
[/showhide]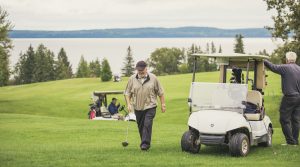 The Haileybury Historic Golf Course, a top pick that you will not regret.